April 4 2023
We will share the main functions of the mobile app for clients from the LuckyFit system in this article: examples, customer experience, and facts
Thanks to the app, you won't waste your time on constant requests in direct messages, such as:
When is my training scheduled?

Can you freeze my subscription due to an unplanned vacation?

Can you book me for Zumba at 4:00 PM?

Please send the updated schedule of group classes.

Which trainer is available for personal training on Saturday?

Because all of these answers will be immediately available for clients to resolve themselves after downloading the app from the AppStore or GooglePlay.
What are the options for the mobile application?

1️⃣ There is a standard app that is already included in the "M" and higher tariff plans. It is ready for download on the AppStore or GooglePlay platforms. To add your club to the app, you just need to make a few simple settings in the system.
2️⃣ There is an option for a branded app – this is a great solution for those who want to develop their own brand. You can personalize some items such as with this option :
Name and logo. The name of your fitness club is displayed, and the app has a separate link for download.

Splash screen with your identity.

App description can be written by you.

Ability to add two branded colors.

Images of your subscriptions.




Here are a few more facts:

1️⃣ A personalized mobile application is created on average within 14 days from the moment you provide your logo until it is published on AppStore and GooglePlay.
2️⃣ There is instant synchronization of all customer actions with the CRM system and widgets. This means that customer bookings, subscription purchases, and cancellations are immediately reflected in the LuckyFit system.
3️⃣ Automatic push notifications can be actively used for customers, including confirming class bookings, birthday greetings, subscription expiration reminders, promotion notifications, and more. By using push notifications instead of various SMS services, you can save up to €400 a year, as it is entirely free.

What does it look like for your clients?
Download the app through AppStore or GooglePlay.

The main banner will inform about the latest promotions of the fitness club.

Familiarize yourself with the schedule of group classes or the list of available trainers for personal training at a convenient time for the client.

One-click payment for training.

When visiting the club, show the barcode or QR code on the phone at the reception for quick identification.

After a productive hour, rate the trainer or club.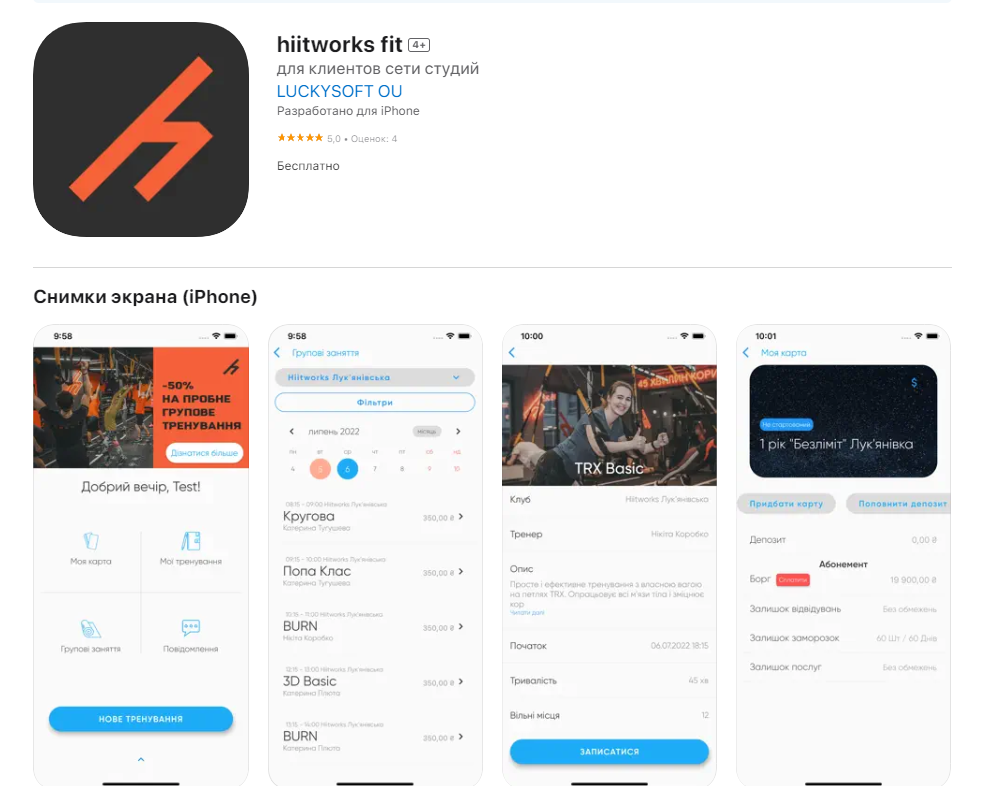 Hiitworks – a network of fitness clubs in Kiev

Olga Lenio

Director of Marketing and Sales for the Hiitworks fitness studio network
For a long time we searched for a program that would meet our main needs: client and subscription tracking, strong analytics, lead management, and customer service. Now, instead of using three different programs, we use Lucky Fit and we are very satisfied with this choice. In addition, our clients can now schedule workouts and purchase subscriptions through the convenient app.
There is still work to be done, but the Lucky Fit team is doing a great job gathering feedback, taking on tasks, and addressing them promptly. Good and timely communication is an excellent trait of the Lucky Fit team. We are extremely grateful for this and find it very valuable!